We may earn commission from links on this page, but we only recommend products we love. Promise.
13 Best Spray Sunscreens for Your Face and Body, Tested and Reviewed for 2023
Because SPF is always summer's hottest accessory.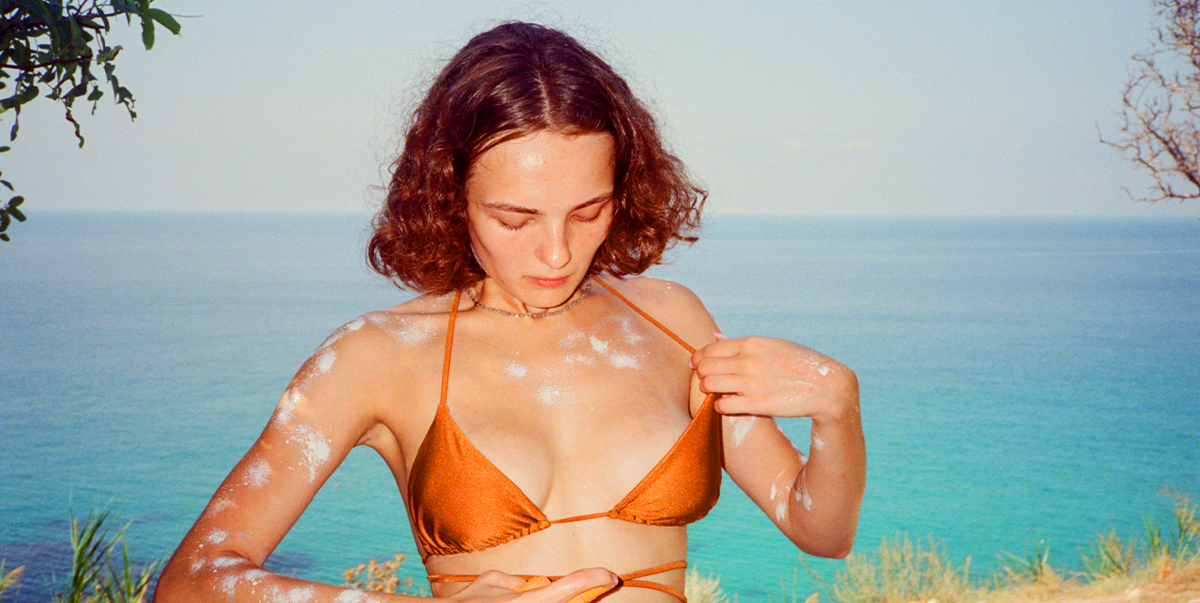 Getty
The real tea on skincare routines? If you're not applying sunscreen every single morning, all those retinols and anti-wrinkle creams you spend hundreds of dollars on are kiiiind of irrelevant. I'm serious! Wearing an SPF (of at least 30) helps prevent short-term and long-term skin damage like dark spots, fine lines, melasma, premature aging, and skin cancer. Sooo, yeah, it's safe to say applying SPF every morning is a must. And because we know how freaking busy you are, we want to make it as easy and convenient as possible, that's why we rounded up this list of the 13 best spray sunscreens for your face and body, and consulted a few dermatologists—Mona Gohara, MD, Ellen Marmur, MD, Annie Chiu, MD, and Dornechia George Carter, MD—to give you the facts.
Unlike sunscreen lotions, creams, and gels that can take (what feels like) forever to rub all over your body, spray sunscreens can be applied in legit seconds. These days, there are tons of fast-absorbing options specifically designed for every skin type and concern—from spray sunscreen for oily skin to spray sunscreens for sensitive skin, and even SPF makeup setting sprays—we've got somethin' for you.
---
✔️ FYI: We updated this article in June 2023 to give you the most up-to-date info on spray sunscreen, including adding new, dermatologist-approved recommendations and instructions on how best to apply.
---
Our top picks for the best spray sunscreens of 2023
Intrigued? Cool. Here's the comprehensive list of spray sunscreens that are convenient, easy to use, and good for your skin. Happy shopping. XOXO, #TeamSpray.
Advertisement - Continue Reading Below
Advertisement - Continue Reading Below
Advertisement - Continue Reading Below
Advertisement - Continue Reading Below
Is spray sunscreen safe?

There's definitely some speculation and fear-mongering claims floating around the Internet regarding the safety of spray sunscreen, but Dr. Gohara says, generally speaking, spray sunscreen is safe. The FDA hasn't officially made any claims about whether or not spray sunscreen is dangerous, although it is worth noting that it can cause potential lung irritation or problems for those with asthma, Dr. Chiu explains. But the fact of the matter is, as long as you're being smart when applying it (i.e., eyes closed, breath held, spraying outside or in a well-ventilated area, and avoiding direct inhalation), you should be fine.
Another hesitation about purchasing a spray sunscreen? "Often, they're given a bad name because some aerosols can have a negative impact on the environment," Dr. Gohara says. You'll be pleased to know that there are a ton of sunscreen mists that don't contain aerosol, and, yes, we've included them.
Is spray sunscreen effective?

Spray sunscreen is effective, but only if you use the recommended amount of sunscreen—one full teaspoon for each arm and leg—which can be difficult to gauge when spraying your body with a fine mist. To that end, Dr. Carter cautions against the "sunscreen cloud" trend of simply spraying a gentle mist of sunscreen around your body and hoping it falls evenly on your skin. "To get the best efficacy out of a spray sunscreen, you want to spray until a sheen is visible on the skin, then rub it in and allow it to dry," Dr. Carter says.
If you do have access to traditional lotion sunscreens, Dr. Carter suggests relying on them as your main protection and only using a spray sunscreen for touch-ups. And remember: "Everyone should reapply their sunscreen every 90-120 minutes, particularly when profusely sweating or swimming," she says.
Advertisement - Continue Reading Below
Is spray sunscreen good for your face?

Yes, spray sunscreen can be good for your facial skin (provided you patch-test first for allergies and irritation), especially if you choose a formula with added skincare benefits. Not only that, but sunscreen in all forms will help protect your face against premature aging, skin damage, and skin cancer. "Your face captures over 50% of your daily sun exposure, and it doesn't forget it," says Marmur, which is why it's so important to diligently use an SPF of at least 30 every single day.
As for whether or not spray sunscreen is safe to spray on your face, the answer is yes, with one obvious caveat: It can sting your eyes and potentially irritate your throat and lungs if you're not careful when applying (i.e., if you inhale the formula with your eyes wide open while spraying it on). Still, if the risk concerns you, Dr. Carter recommends applying a "generous and visible amount" to your hands and then applying to your face to reduce the risk of lung irritation—and to get a better idea of how much you're actually using.
How to choose the best spray sunscreens

Determine your sunscreen formula preference: mineral or chemical?
There isn't a ton of difference in function between chemical sunscreens and mineral sunscreens. Both will protect you from the sun's harmful rays, and both can provide high SPF protection regardless of your skin tone—the only difference is how. Mineral sunscreens use zinc oxide and/or titanium dioxide, which essentially sit on your skin like a shield to reflect UV rays. Chemical sunscreens, however, use ingredients like avobenzone and homosalate, which absorb UV rays, convert them to heat, then scatter and diffuse them. Chemical sunscreens are sometimes favored over mineral formulas because they're less likely to leave a white cast, while mineral sunscreens are often gentler on sensitive skin. Still, there's no right or wrong formula: The best spray sunscreen is the one you'll actually use every single day.
Know your skin type
If you've ~practically perfected~ your skincare routine and you're worried that adding spray sunscreen to the mix might cause breakouts, irritation, or a white cast, totally feel you. Our list features several innovative formulas that are lightweight, fast-absorbing, and contain good-for-your-skin ingredients. We selected spray sunscreens for every skin type and concern—from oily and acne-prone, to dry and aging.
SPF 30 or more
The absolute bare minimum SPF you need is SPF 30, Dr. Gohara says. Any SPF less than that? Consider it a no-go. "Have a few that you like for when you're participating in different activities, or dependent on the weather," says Dr. Marmur.
Meet the experts:

Advertisement - Continue Reading Below
Why trust Cosmo?

.
Olivia Truffaut-Wong is an editor at Cosmo with 10 years of experience writing about culture and beauty. She's covered everything from the best volumizing hair products to the best eyelash curlers. Her spray sunscreen pics were based on the many bottles bought and tested over the years, as well as research from reviews and interviews with experts.

Siena Gagliano is an associate editor at Cosmopolitan and has three years of experience writing about beauty, fashion, and lifestyle news. She's an expert at researching and writing skincare stories, like the differences between mineral vs. chemical sunscreen and the best clear sunscreens, and feels especially knowledgeable in spray sunscreen thanks to being a beauty editor and therefore an advocate for SPF. She regularly tests and analyzes spray sunscreen on her own skin for efficacy, while working with the industry's top dermatologists to assess new formulas and products.
Hanna Flanagan is the associate shopping editor at Cosmopolitan with four years of experience researching, writing, and editing stories such as the best beach hats for sun protection. Her spray sunscreen picks were based on product reviews, ratings, and personal testing, along with information from experts.

Editor
Olivia Truffaut-Wong is an entertainment and culture writer and editor who will never turn down a romance or superhero movie. Her work has been featured in The Cut, Refinery29, Teen Vogue, Polygon, Bustle, and more.

Associate Editor
Siena Gagliano is the associate editor at Cosmopolitan, where she primarily covers beauty in the makeup, skin, and hair spaces, as well as some fashion and lifestyle. Wanna know how to get the best brows of your life? Gotchu. What about how to achieve ridiculously glowing skin, a super bouncy blowout, or exactly how to use that viral face mask? Check, check, and check. Before joining Cosmopolitan, Siena was a writer at Bustle and several other media outlets. As NYC's newest resident, she has vowed to find the best (extra) dirty martini this city has to offer—and yes, that means ~attempting~ to try every cute cocktail spot in the city (hit her up with some recs, pls). Follow Siena on Instagram where you'll see that her account is mostly dedicated to pics of her cute dog and that magazine life.
Hanna Flanagan is an associate shopping editor at Cosmopolitan, sharing her recommendations for everything from denim and eye creams to coffee mugs and silk sheets. Before joining Cosmopolitan, she wrote fashion, beauty, and lifestyle content at People (so, yes, she's basically a professional product tester at this point). Follow her on Instagram for photos of Timothée Chalamet and #OOTD mirror pics.